Tilapia is the term used for many species of cichlid fish with the three most popular for aquaculture being Nile or Black tilapia (Oreochromis niloticus), Blue tilapia (O. aureus), and Mozambique or red tilapia (O. mossambicus). Tilapia are a hardy herbivorous fish that feeds on algae or small aquatic plant cells, and are primarily raised in freshwater systems using cages, ponds, raceways or open waters. In the wild they primarily inhabit shallow streams, ponds, rivers and lakes.
Aquaculture of Tilapia dates to Ancient Egypt and they were one of the three main types of fish caught from the Sea of Galilee in Biblical times. Today Tilapia is farmed in over 80 nations and has steadily grown in popularity since the turn of the century. Tilapia is currently the fourth most consumed fish in the United States which is attributed to its low cost, versatility in preparation and mild flavor. Tilapia has a low to moderate fat content, and is a rich source of high quality protein.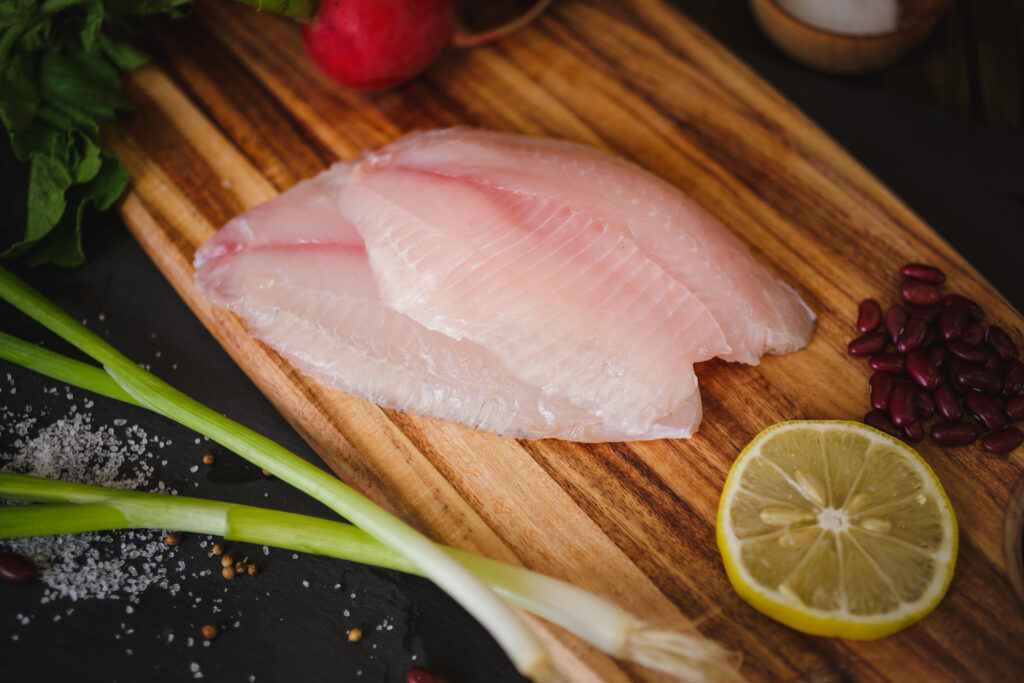 Origin: China
Catch Area: Farmed
Presentation: Well-Trim Chem Free Fillet and Whole Tilapia G&S
Packing: IQF 1X10 lb (Fillet) ROYALE or 1×40 lbs (Whole)
Grading/Sizing: 2/3, 3/5, 5/7, 7/9, 9/11 oz. (Fillet) 350/550 g, 550/750 g, 750/up g (Whole)
Learn more about working with us.